What is the AITE (Alberta Indian Tax Exemption) Card?
The AITE Card is the document used by the Government of Alberta to verify the eligibility of an individual for the Alberta Indian Tax Exemption (AITE) program. Individuals that want to receive tax exemptions on their fuel and tobacco purchases on-reserve must apply for an AITE Card. This card must be present at the retailer during the checkout process. This card entitles the customer to purchase accommodation, fuel, or tobacco products without taxes or levies. It also provides a record for the retailer to use for their tax exemption refund claims. The Government of Alberta will continue to issue this card until October 4, 2021. However, Alberta is discontinuing the AITE Card on that date and will no longer be accept it as proof of eligibility for tax exempt fuel and tobacco.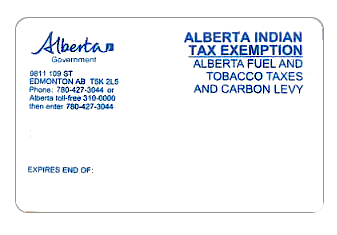 You can check your eligibility for this card on the Government of Alberta's website.
To get an AITE Card, you must fill out the Alberta Indian Tax Exemption application provided through the above website. You must then submit them to the Tax and Revenue Administration (TRA). The TRA will mail the AITE Card to you so you may start using it for tax exempt fuel and tobacco.
What is the Federal Secure Certificate of Indian Status?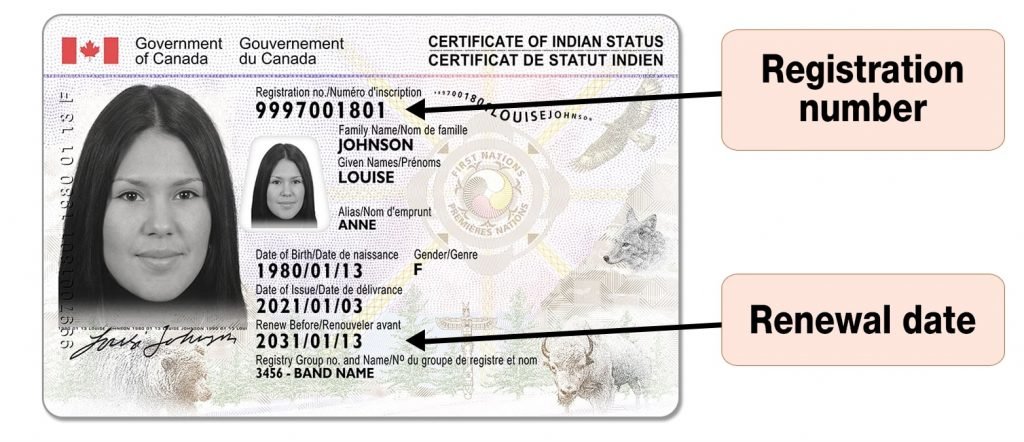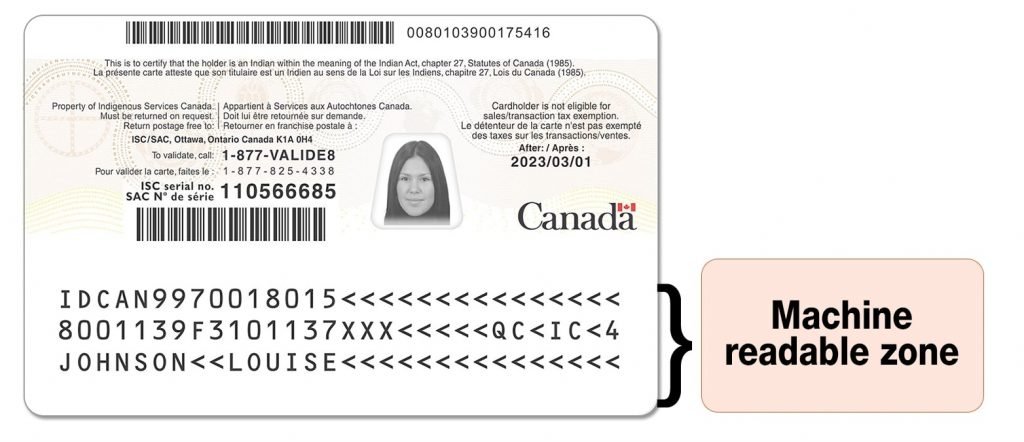 The Federal (Secure) Certificate of Indian Status is a piece of identification issued by the federal government for individuals who are 'Status' Indians as defined by the Indian Act. These cards grant status holders access to tax exemptions on-reserve as well as other benefits. Many provinces choose to use this card in tandem or instead of a provincial card. An individual must register under the Indian Act to be eligible for the Status Card. This card is accepted throughout Canada as identification and proof of Status when applying for certain benefits and tax exemptions.
How do I apply for Indian Status and the Federal Status Card?
To apply for the Status Card, you must fill out the required documentation outlined in the Government of Canada's website. You must:
Get an application form online, by mail, or in person
Fill and sign the application
Submit the application in person or by mail
You may submit your application in person at the ISC Alberta Office in Edmonton; ISC Alberta Office in Calgary (by appointment only); or at Treaty 7 First Nations offices.
Why is the program changing?
The Government of Alberta has been working to reduce paperwork and unnecessary steps in the Alberta Indian Tax Exemption program. This will simplify the process for retailers that provide fuel, tobacco, and accommodation tax exemptions. They are phasing out the AITE Card in order to reduce the duplication of documents necessary to receive a tax exemption. Status holders will now only use their Status Card for exemptions. The deadline for the change to the program was extended until October 4, 2021 to accommodate individuals that do not yet have their Status card.
How will this affect electronic AITE submissions?
Starting on October 4, 2021 customers will not be able to verify their tax exempt status with their AITE card. Customers must present their federal status card to validate their tax exempt fuel and tobacco status when making purchases on-reserve. All electronic exemptions through POS systems must upgrade to use the status card instead of the AITE card. This is a significant change that could heavily impact the operations of many Albertan First Nation retailers. Electronic submissions will continue to be possible with the Status Card. This is as long as your POS provider makes the necessary updates to their system to match the provincial regulations and requirements. Since the cards are set up differently, there may be some operational changes in how retailers input status information into their POS systems.
What is Wiz-Tec doing about the update to the Alberta Indian Tax Exemption Program?
Wiz-Tec performed a similar upgrade for the Government of Ontario in 2020 with minimal interruptions to our customers and we will be performing the required development, testing, and certification for the Alberta version of iPOS to ensure a smooth transition for you and your customers. Please consult the service team at Wiz-Tec about upgrading your system to ensure you are able to continue operating without interruptions if you sell tax exempt fuel and tobacco.
We will be keeping in touch with our clients in Alberta to provide information and any other resources necessary to help with the transition. Your iPOS point of sale system will continue to operate as usual until October 4, 2021. At that point, there may be some operational changes in the transaction procedures. Our service team will keep retailers informed and will contact all retailers with training on any new procedures or substantial changes to their iPOS system. If you have any concerns or questions about the transition to the Federal Status Card, please do not hesitate to call our service team.