In the car wash industry, safety should be one of your biggest concerns. Not only do you have to worry about your equipment, the chemicals you're using, your pricing, branding, and membership programs, you also have to worry about vandalism and the general safety issues you, your employees, and your customers could face. This is why it's so important to have a solid security system in place at your wash. It protects both you and your customers from unpleasant situations. Installing long-lasting car wash security systems could save you a lot of trouble in the long run. This article will guide you through some of the basics and best practices for setting up a security system in your car wash. It'll touch on key features, tips for upkeep, and the best cameras for your car wash to give both your customers and yourself peace of mind.
Your employees and customers will all appreciate the care you put into their well being. And your bottom line will thank you for the boosted reputation and decreased claims.
Car Wash Security
Much like any other public facing business, security systems are an essential part of your day to day. You want to protect your business from all the external security concerns you can. That's why adding a robust security system to your car wash is a must. One camera pointing at your entry and exit just won't cut it. You want to be able to monitor your equipment for any failures or vandalism. That's why each of your bays should have at least 1 camera. Monitoring your site can also help you build better promotions. You'll be able to see which times of day and days of the week are the most popular, then plan promotions around them.
Even if you only have self-serve bays and aren't too concerned about documenting pre-existing damage to cars, you'll be able to mitigate dumping, theft, and general destruction of your property. Though cash is quickly being phased out as the most popular payment method for people, many car washes still accept coins or bills for a wash and this is the main vulnerability for them. It can be a big concern if your wash is in an area with a high crime rate. Many car washes suffer from broken equipment on a regular basis because of break-ins to their pay points. Even getting a token system isn't a foolproof way to prevent these damages. Thieves may not realize the change until they've already broken the equipment, or they may break it out of spite.
Generally, washes with credit only pay stations experience reduced vandalism and equipment damage. That said, only accepting credit and debit cards isn't always possible for car washes. That's where camera and alarm systems can hep operators reduce their liabilities.
Car Wash Cameras
Let's start with a good surveillance system. Having surveillance on your business is a necessity nowadays. Not only do you protect yourself but you're also protecting your customers and employees. Since you can't be at your wash 24/7, you need to be able to keep an eye on your business when you're not around. Therefore, getting a good surveillance system with quality cameras is a must. Between after hours theft, vandalism, and suspicious complaints about scratches from your customers, a good quality camera system can save you both a lot of money and unnecessary insurance headaches.
Wired vs. wireless
Before we look at the features you should look for, lets dive into the wired vs. wireless debate. While it may seem like an easier- and cheaper- option to simply install wireless cameras around your car wash and save yourself the trouble of routing cables, wireless cameras are not always the best options for security footage. Not only can a determined thief buy a wireless signal jammer and render your wireless cameras useless very easily, but the batteries on wireless units need to be replaced or recharged constantly, leaving your site vulnerable, to maintain video quality and reliable streaming. Wireless cameras also tend to perform poorly in harsh environments like car washes since they aren't as robust.
Investing a wired security camera system is definitely worthwhile. However, you can also use wireless cameras as your backup if your main power ever goes out.
Features to Look For in Your Car Wash Camera System
There are so many options available when it comes to camera systems. It can get difficult to decide on the best set up. With that in mind, there are certain features that you should always make sure to include in your search. Depending on your car wash, you'll need certain features more than others. We'll outline the basic features to look for below: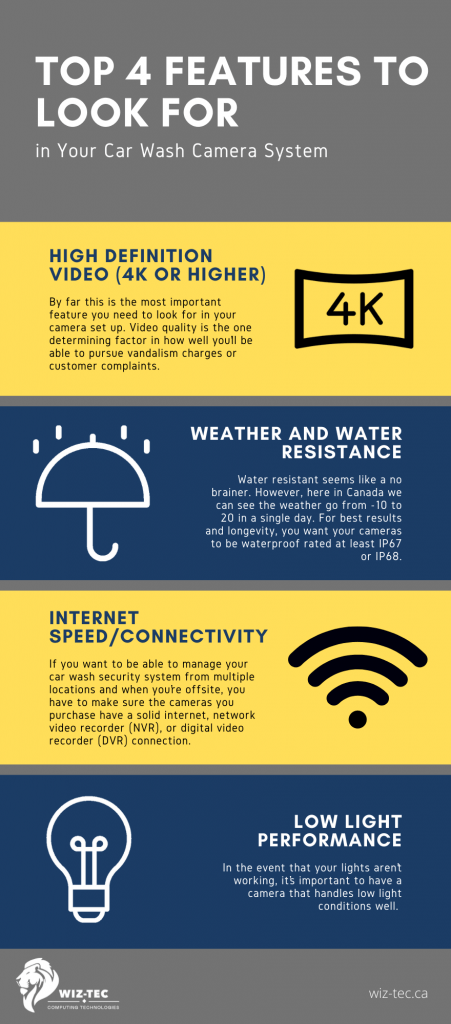 1. High definition video (4K or higher)
By far this is the most important feature you need to look for in your camera set up. Video quality is the one determining factor in how well you'll be able to pursue vandalism charges or customer complaints. If your camera system can't help you make out a license plate or pre-existing damage on a vehicle before it enters your wash, you open yourself up to unnecessary liabilities. If anything is important in your car wash, it is the quality of your security videos. Do not skimp out on quality. And don't forget to properly calibrate your camera settings to get the best picture possible
2. Weather and water resistance
Water resistant seems like a no brainer. However, here in Canada we can see the weather go from -10 to 20 in a single day. You need to make sure your camera system is fit to withstand both extreme cold and extreme heat. DIY camera set ups with indoor-only security systems just won't cut it. Instead of relying on cameras meant for indoor use, expand your budget to include commercial-specific cameras. The upfront investment will save you the cost of future replacements. Cheap lenses crack or wires stop working due to the moisture, heat, and cold your car wash experiences throughout the year. For best results and longevity, you want your cameras to be waterproof rated at least IP67 or IP68.
3. Internet Speed/Connectivity
If you want to be able to manage your car wash security system from multiple locations and when you're offsite, you have to make sure the cameras you purchase have a solid internet, network video recorder (NVR), or digital video recorder (DVR) connection. The cameras you have are only as good as the recorder and their connection to it. A spotty connection will lead to laggy video, upload issues, and ultimately, your playback video will be less clear than your live stream. That could cause you trouble if you need to download the video to use as evidence.
4. Low Light Performance
In the event that your lights aren't working, it's important to have a camera that handles low light conditions well. While having very good lighting is great for mitigating incidents, sometimes bulbs will go or thieves will get clever and break lights to avoid detection. This is where you want your camera to perform. Low light conditions tend to lead to higher chances of crime or damage to your equipment.
How much coverage should you have?
Ideally you want your security system to cover your entire car wash. You never know when that one corner in your site will cause a headache for you so you want to have surveillance on every possible place something could happen. As far as where you should place your cameras for the best coverage, well, it depends. First and foremost, you always want to have cameras set up in any area where money is involved. Pay stations, your store, vending machines, vacuum islands etc. These sections are your most vulnerable, so you want the most coverage on them. Having cameras on your pay points and on your entrance and exit are the standard for all car washes, but the type of car wash you run will determine what other placements are necessary to protect you and your customers.
Type of Wash
Self-serve: You should have cameras on each bay to prevent dumping, vandalism, and to review equipment malfunctions. Dome cameras work well for covering a large area, but wide angle cameras can work just as well if placed correctly.
In-bay automatic (Brushes): Since friction is used in automatic car washes, you'll likely want an inspection arch before your customers enter the car wash. Ensure that you can see the vehicle clearly and make sure you can note any pre-existing damage.
In-bay automatic (Touchless): Because equipment doesn't generally touch the car when its in the wash cycle in touchless washes, you don't need a detailed inspection of the vehicle before it enters the wash. However, you should place at least 1 camera inside the bay. to check for equipment malfunctions or damage to your equipment by customers.
Tunnel: Tunnel car washes have a lot of moving parts and can be quite extensive, so placing cameras throughout is generally a good idea to ensure that your customers and equipment stay safe. Cameras right outside your tunnel are necessary to mitigate any false scratch and damage claims. You'll likely want an inspection arch before cars enter your wash and even one after the wash for double security.
One thing to note for all the above placements is that you want your cameras to be visible but vandal-proof. Deterring people will always be more effective than pursuing people after you catch them in the act. After all, you want to prevent incidents so your wash can continue operating at its best. Well placed cameras and surveillance signage will mitigate incidents before they happen. The cameras themselves will help you sort it out should issues still arise.
Best tips to take care of car wash cameras
While commercial cameras are built to withstand more abuse than indoor-only use cameras, you'll still need to do some upkeep. Here are some helpful tips for security systems collected from the advice of multiple car wash operators across the internet:
Use dielectric grease to keep moisture out of your camera plugs. Dab a small amount into the female and male connectors and wrap the connection with silicone or electrical tape
Use glass enclosures/lenses for your cameras.
Treat your enclosure or lenses with a hydrophobic glass treatment to make clean up easier by reducing build up
Clean your cameras and check your hard drive or cloud backups once a month
Get a professional to install your cameras so there are no wiring issues
Have cameras point at other cameras for maximum coverage in case one goes out
Get a cloud-based system to have remote access to your cameras and recordings at all times
Top 5 picks from operators
Couple a good security system with a good point of sale system and you'll be golden. Wiz-Tec offers integrated payment points for self serve and automatic car washes so operators can more easily control the usage of their equipment from inside their convenience store through their cash register.