Debit and Credit Tap Payments at Go Detail
Go Detail is a car wash in northeast Calgary, Alberta, Canada. It has been operating under new ownership since January 2019 and has since been the flagship pilot site for Wiz-Tec's new car wash technologies. The owner, Doug Garratt, has over 35 years of experience in the car wash industry, making him committed to finding ways to improve and optimize his business in any way. Doug decided to use Wiz-Tec's advanced payment points in his operation in the way of installing the iPOS point of sale system to monitor and control his business and the debit enabled ZoomOne payment units.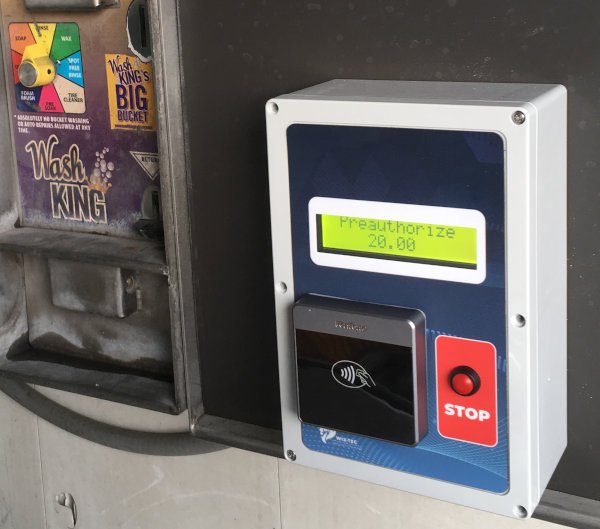 "80% of the time, customers that pay with cards now go for the top-tier option in the automatic wash."

Doug Garratt, Owner
In January 2020 the ZoomOne units were installed in the self-serve bays as the tap option for customers using credit and debit. Changing to these payment points created a new revenue stream for Go Detail and the installation of debit and tap payments in the car wash saw the $4 average ticket increase up to $7.66. This change produced an increase of over 92% in spending per self-serve wash.
In Bay Automatic
Self-serve bays
Before
Cash and credit swipe
Coin and credit swipe
After
Debit/credit tap & chip, credit swipe, code entry, and gift cards
Debit/credit tap, coin, and credit swipe
Results

Up 10%

in average automatic car wash sales

Up 92%

in average self-serve bay spending
Go Detail changes after the installation of Wiz-Tec's car wash payment technologies.
Debit Payment Points Make a Difference
After the installation of Wiz-Tec's count-up debit enabled car wash payment points in the self-service bays, there was an increase in the average spending per wash. In March 2020, the average card user spent $7.27 per wash compared to the average $4 when customers used cash. This ticket price actually increases to $7.97 for debit, and stays at around $7.43 for credit cards.
For a more detailed study into this operation, download the case study below.
Follow us on social media